Mt. Rainier, August 30-September 4th, 2000
Movies
Check out the movies page for Pat Brown's Rainier 2000 movie.
Pictures
Trip Report
It will come at some point. Basically we went, learned a lot about glaciers, crevasses and weather, and came back safely.
The Team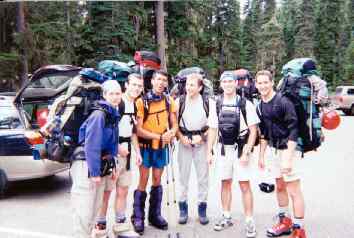 The Gang. From left to right:
Amanda 'I melted snow' Masek
Mike 'pooh' Freedman
Hector 'Safety' Briceno
Luke "let's go to Smith Rocks instead' Sosnowski
Pat Brown
Rob 'sherpa' Jagnow
The Gear
Personal Gear
Clothing

long underwear tops
long underwear bottom
fleece jacket
fleece pants
goretex jacket shell
goretex pants
poly pro liners
overmitts and liners (perhaps even bring an extra liner )
polypro liner socks (perhaps 2 pairs)
wool or synthetic socks (perhaps 2 pairs)
gaiters
face mask balaclava
hat
baseball cap (to wear under helmet, helps keep sun out of face)
ski goggles for summit day or wind
double boots or heavy leather boots

Hardware

crampons
alpine ice axe, with leash, long enough to reach harness while walking
space blanket or space bag
headlamp with spare bulb and one or two extra batteries (we'll be doing the long summit hike at night)
sun glasses, 100% UV protection with side shields
sun block, at least SPF 30.
Chapstick or lip balm
compass
big backpack (>5000)

For Glacier Travel

2 prussiks (or if rope of 2, bring 3)
5 or so carabiners
1 rescue pulley (or if rope of 2, bring 2)
2 runners or slings, one for anchors, and another for backpack
helmet
climbing harness
1 snow anchor, picket or fluke

For Camp

Sleeping bag (rated from 0 to 20)
Sleeping pad (close cell or therma-rest)
personal toiletries (including toilet paper)
bowl or expedition approve Mr. Mikes Mug (16oz), if insulated better
silverware (not made of silver and preferably not made of metal), like fork and spoon.
3 water bottles.
plastic blue bags, we pick them up at the mountain

Optional

optional vapor barrier socks (star market bags), if you have not try them give them a try
optional waterproof gloves
optional down jacket (for hanging around camp and crevasses, cooking)
Group Gear
For Cooking and Tent groups of 2

2 person/4 season tent
Food
Fuel, (5 oz. per person per day, although I also saw 8 oz per person per day, I also heard "* To determine the amount of fuel you will need at altitude (over 10,000 ft), count on 3/4 litre of fuel per stove per day. This is based on a 3 person cooking group per Whisperlite stove", from denali checklist: Three ounces minimum per day per person of white gas is a good rule of thumb for calculating amount of fuel to bring. MSR fuel is recommended for ultralight stoves as it is far less likely to clog the stove than Coleman fuel which is designed for larger camping stoves
Stove
Gangbuster of Matches (and some lighters), about 5 per lighting = 30 or 40, distributed everywhere, like stove kit, underwear, hair, boots...good thing I can write anything I want since no one will read this or get this far...
2-3 quart pot with lid, optional heat exchanger

For everyone group gear

2 Ropes
Repair kit for stoves (assuming we all take whisperlites)
Shovel
2 ice screws for icy sections
Altimeter
GPS
Iodine tables for water below glaciers
2 first aid kits (one for each rope team)
Duct Tape
Large black plastic bags for melting and collecting snow
optional gas latern for camp
optional talkabout radios.
The Plan
This is a tentative plan, subject to change without notice. We'll buy the food and fuel in seattle (or perhaps Luke will have bought the 6 or so quarts of white gas we need. It would be my preference that we have enough containers to carry them in safe aluminum containers. If not someone will have to carry the big gallon jug of fuel with the caveat that we would kick is gluteous maximus if he breaks it.

I would also like to make each tent group autonomous, so that food, stove and tents are split between two people, and so is the responsability for their cooking and melting of snow; although of course you can ask anyone to watch your food and stuff, but ultimately you are responsible for your own feeding.

Flight information
8/30 BOS-LAS 09:11pm-11:53pm America West 68
8/31 LAS-SEA 12:54am-03:05am America West 2878
9/04 SEA-BOS 07:55pm-07:26am (next day) America West 2067
Wed 8/30th, 9:11pm
Depart Boston
Thu. 8/31, 3:05am
Arrive in seattle
Thu. 8/31, 5:00am
buy Food and Fuel at supermarket
Thu. 8/31, 8:00am
get permit at white river station, hike to glacier basin (5900ft)(3.3 miles 1848 elev. rise, 120 elev. loss)
Thu. 8/31, afternoon
Pratice glacier travel and crevasse rescue at inter glacier
Fri. 9/1, morning
Hike to Emmons Flat (9800ft)(2.6 mi, 4067ft elev rise, 315ft elev loss)
Fri. 9/1, afternoon
More crevasse fooling around
Fri. 9/1, 11:30pm
If weather window good, people feeling fine, and mars and mercury are aligned head for summit (14411ft, 1.8mi, elev rise 4630ft, elev loss 101ft)
Sat. 9/2, afternoon
If summit previous day, ZZZ
Sat. 9/2, 11:30pm
If no summit previous day, weather window good, people feeling fine, and mars and mercury are aligned head for summit
Sat. 9/3, afternoon
If summit on 9/2 previous day, perhaps go for a dayhike to russel cliffs,
more crevasse training, check out base of little tahoma, roam around
Sun. 9/3, noon
Depending on availability and people's feeling we can head down to glacier basin
Mon. 9/4, 2:00pm
Arrive to trail head, go around mountain and shower
Mon. 9/4, 4:00pm
Big Lunch
Mon. 9/4, 7:55pm
Depart Seattle
Tue. 9/5, 7:26am
Arrive in Boston
Summit Gear
2 person tent
2 sleeping bags
stove
2 qt pot
1 qt of fuel
Other Useful Links